HOW TO REQUEST THE MYPASS SKI CARD
WHY CHOOSE MYPASS SKI IN PONTEDILEGNO-TONALE

Management of rates from hourly to 14 days
You will be charged the best rate of the ski area in relation to the time actually skied

Discount of up to 8% on the price of ski passes
Rates are discounted from 5 to 8% compared to the official prices of the Ponte di Legno – Tonale ski passes

Pay only for the time actually skied
Don't decide first which Skipass to buy. Go directly to the slopes and pay only for what you actually skied

Skip the line at the ticket office
Don't waste a single minute on the snow! Activate the card and go directly to the turnstiles

We provide assistance to our customers throughout the ski season
Pontedilegno-Tonale ski area
Pontedilegno-Tonale ski pass rates
The list prices are applied with a discount of up to 8% on the prices of the Ponte di Legno-Tonale ski passes, as shown in the tables below.
Periods and opening hours of the season:
from Saturday 29 October 2022 to Monday 1 May 2023, from 9.00 to 16.30 (last journey).
Categories with reductions
Baby:
born after 30.04.2014
Junior:
born from 01.05.2006
to 04.30.2014
The free rate for children is valid for those born after 04.30.2014 in possession of a MyPass SKI card on condition that a skier paying the adult rate, present in the same MyPass SKI account as the child, logs in with a day or multi-day ski pass, on the same day, in the area. In the case of multiple children, the same number of paying skiers of the same account/user must access.
Pontedilegno-Tonale ski pass prices
Pontedilegno-Tonale slopes
The Pontedilegno-Tonale ski area covers a vast alpine territory between Trentino and Lombardy.
Ranging from 1,121 meters to 3,000 meters above sea level, the slopes in the area allow every ski lover to try their hand at different techniques and difficulties, thus ensuring days of pure fun for both experts and beginners. The area includes 41 slopes and 28 lifts, divided into 4 ski areas as follows:
GHIACCIAIO PRESENA
Presena Glacier is where the ski season begins and ends. From autumn to late spring, skiing at an altitude of 3,000 meters is always guaranteed. And natural snow too.
PASSO TONALE
Tonale looks like a large natural amphitheater completely exposed to the sun, with tracks suitable for beginners but not only.
PONTE DI LEGNO
We are located inside the Adamello Park: the slopes of Ponte di Legno are all designed in the midst of dense fir woods in a setting of incomparable beauty.
TEMÙ
Wide and panoramic, the slopes of Temù are located inside the forest of the Adamello Park and are connected with skis on to those of Ponte di Legno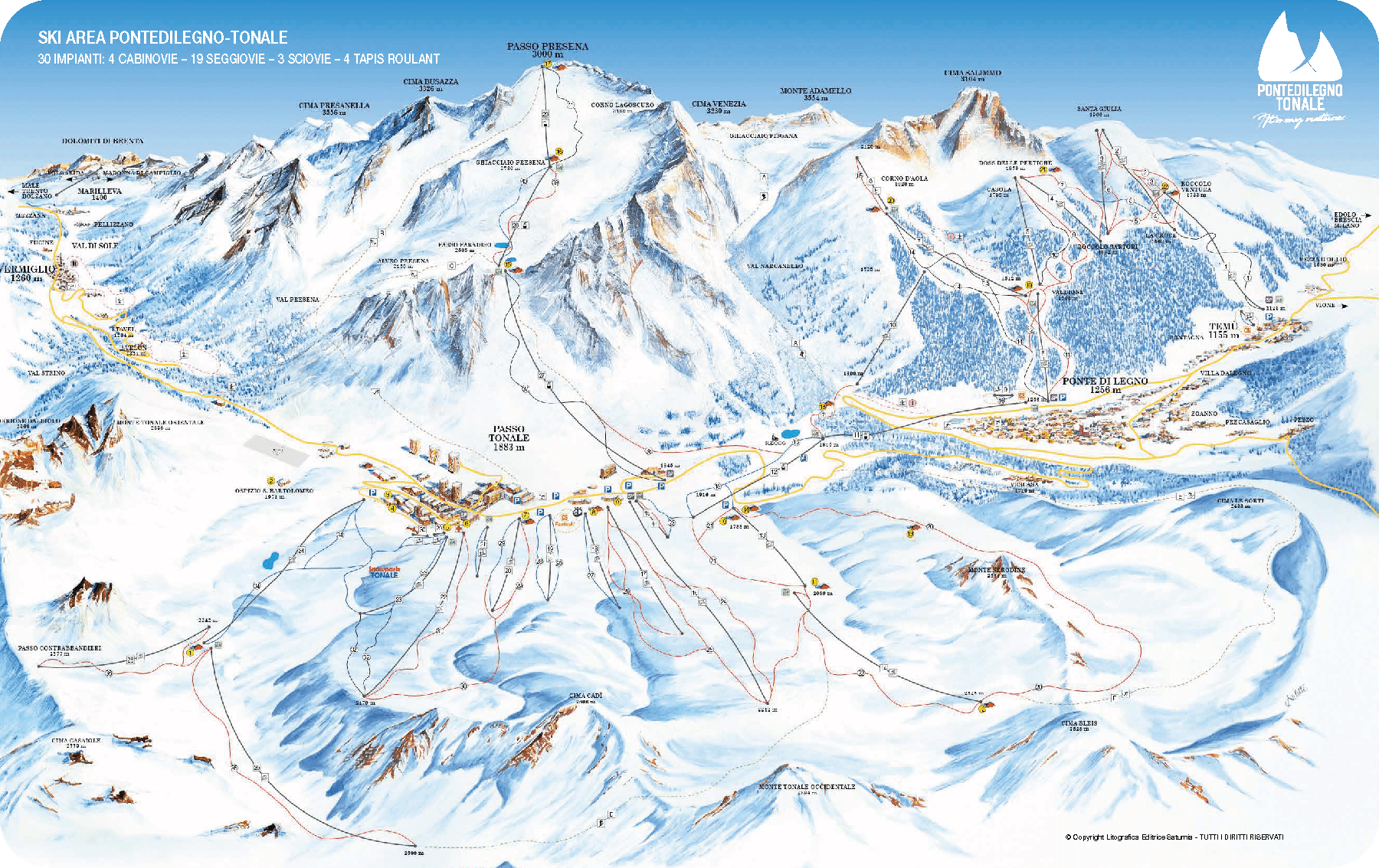 From 1 January 2022 the RCA policy is mandatory on the slopes. Activate Helvetia's daily* or seasonal policy on the MyPass SKI App and ski without worries in complete safety.
OUR PARTNERS