HOW TO REQUEST THE MYPASS SKI CARD
WHY CHOOSE MYPASS SKI IN SAN COLOMBANO

Rate management from half day to multi-day
You will be charged the best rate of the ski area in relation to the time actually skied

Pay only for the time actually skied
Don't decide first which Skipass to buy. Go directly to the slopes and pay only for what you actually skied

Skip the line at the ticket office
Don't waste a single minute on the snow! Activate the card and go directly to the turnstiles

We provide assistance to our customers throughout the ski season
San Colombano ski area
San Colombano slopes
The San Colombano – Cima Piazzi Skiarea is suitable for intermediate skiers, given the almost total number of red runs, and offers the opportunity to ski in a unique and enchanting environmental setting. With its 25 km of tracks and 12 lifts, San Colombano runs from an altitude of 2546 to 1342 m, for an elevation gain of 1204 meters, giving unique emotions on skis.
Noteworthy is in fact the red Doss Alt slope, located on the Isolaccia side. This track is the longest and most challenging in the area, a return slope that from 2000m allows you to reach directly the parking lot in front of the Isolaccia – Pian Della Mota gondola. A wide track that allows you to let your skis "run" and rest your legs, arriving at the final wall, after crossing forests and admiring the beauty of the mountain. Also noteworthy is the Cima Piazzi Happy Mountain School Camp, also located on the Isolaccia side arrival. This camp offers 10 km of beautiful and easy slopes, suitable mainly for children.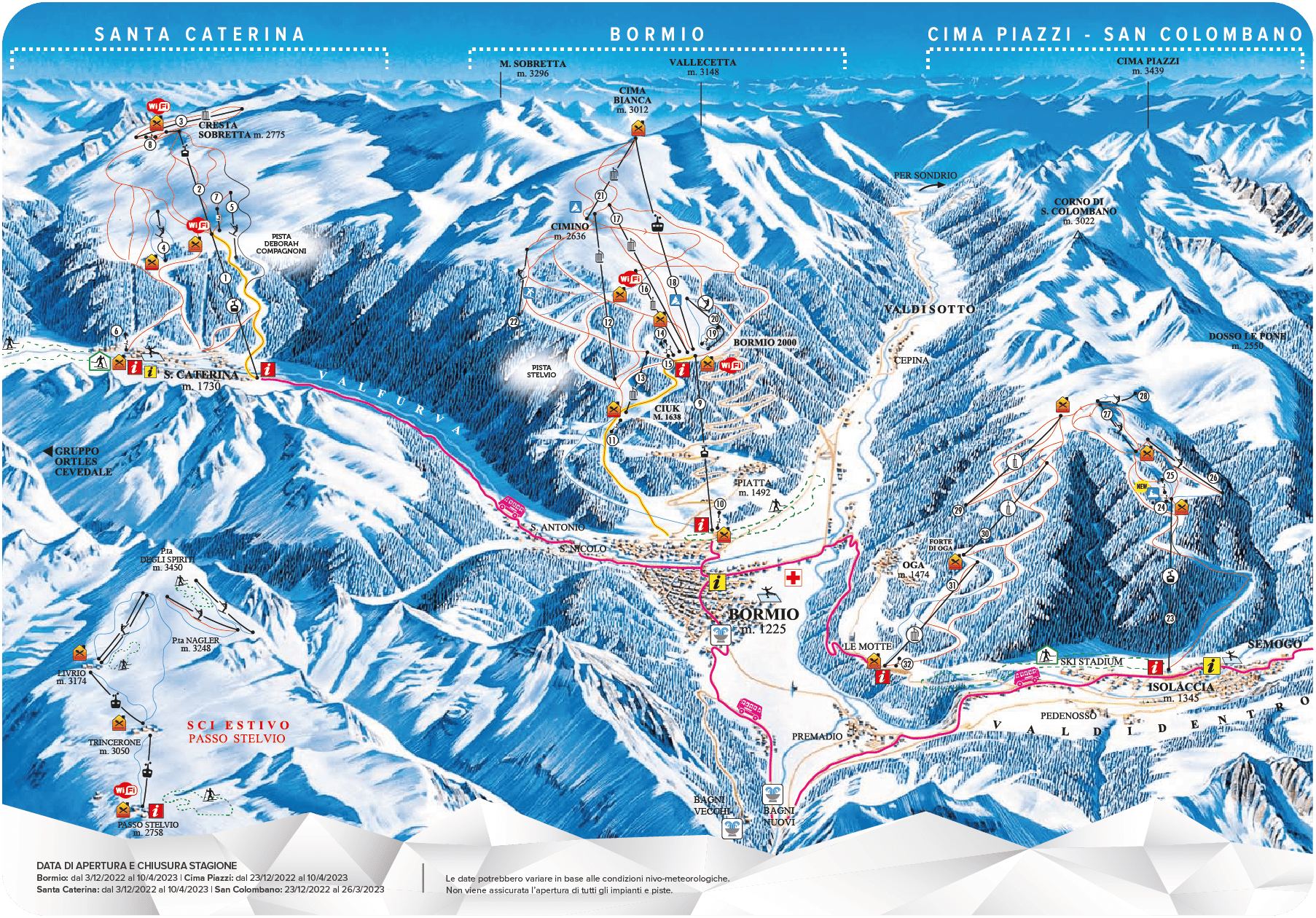 From 1 January 2022 the RCA policy is mandatory on the slopes. Activate Helvetia's daily* or seasonal policy on the MyPass SKI App and ski without worries in complete safety.
*daily policy is activated only when passing the turnstile. 2.50€ per day the first two days, 2€ from the third consecutive day skied.