How does Starpass work?
Starpass uses the MyPass Ski system for the Campiglio Dolomiti di Brenta ski area: Madonna di Campiglio, Folgarida Marilleva, Pinzolo and Pejo. You can therefore access the ski resorts directly and at the end of the day you will be charged the best rate. Once you have reached the first spending threshold (as defined in the table below) you will automatically receive an 80% discount on subsequent ski passes!
If you continue skiing and reach a second threshold, you will be able to ski for FREE! Thanks to the MyPass Ski App you can check your spending and the thresholds to be reached or reached at any time. The system keeps track of all your skiing days.
IMPORTANT!
MyPass Ski cards (even those purchased in previous years) are compatible with Starpass and vice versa.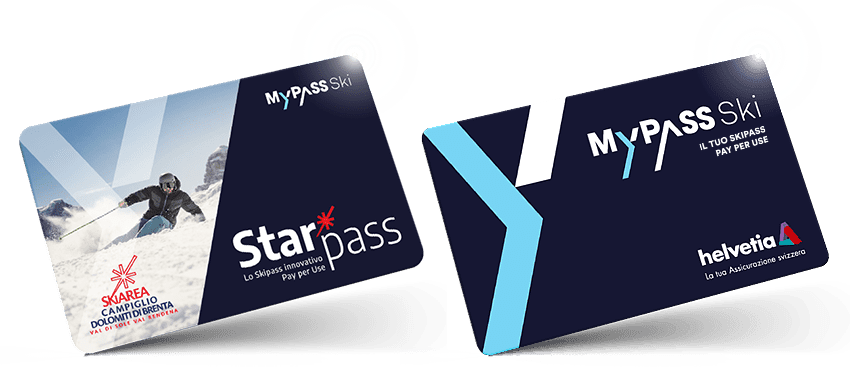 Furthermore, the Card can be sent to your home and, once activated in a few minutes, it will allow you to directly access the facilities! No more queues at the cash desks!
Would you like to know more about the MyPass Ski system?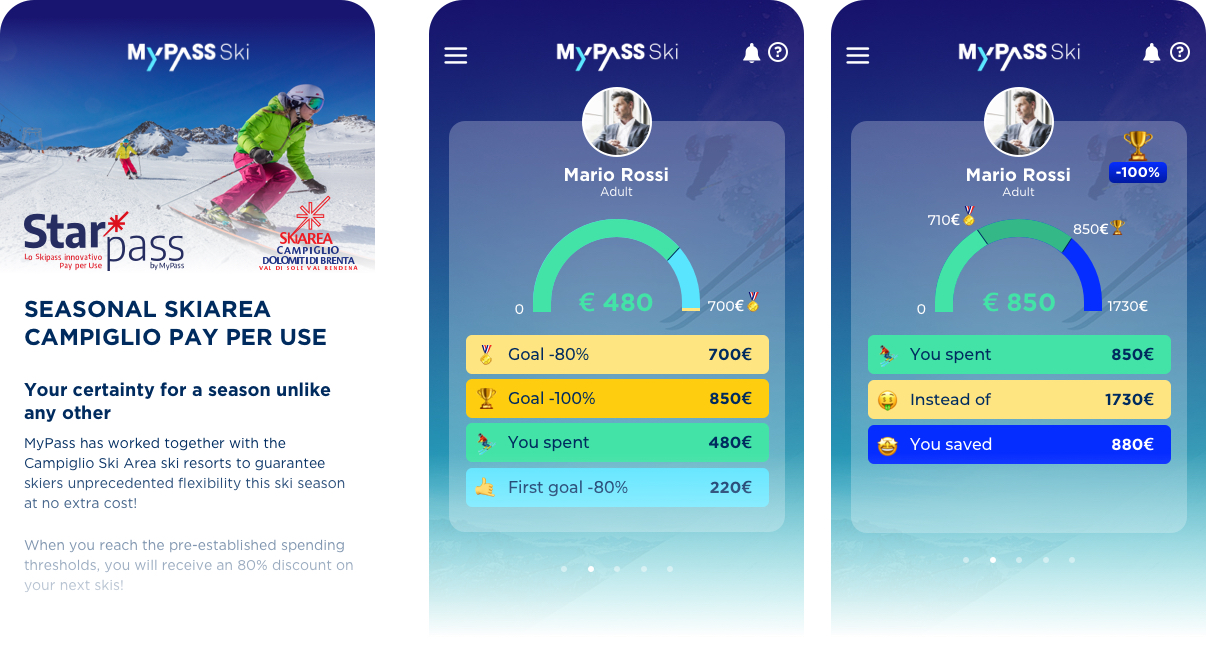 With Starpass you get a guaranteed discount of up to 8% throughout the winter season for all your skiing.
Expenditure thresholds – Seasonal PPU
1º tetto max di spesa
(oltre il quale pagherà con sconto 80%)
1st max. expenditure ceiling
(beyond which it will pay with 80% discount)
2º tetto max di spesa
(oltre il quale non si pagherà nulla)
2nd expenditure ceiling
(above which nothing will be paid)
Adulto/Adult
700,00 €
850,00 €
Senior (nato prima del 30.04.1957)
Senior (born before 30.04.1957)
560,00 €
680,00 €
Under 24 (nato dopo il 30.04.1998)
Under 24 (born after 30.04.1998)
560,00 €
680,00 €
SuperSenior (nato prima del 30.04.1947)
SuperSenior (born before 30.04.1947)
490,00 €
595,00 €
Junior (nato dopo il 30.04.2006)
Junior (born after 30.04.2006)
350,00 €
425,00 €
Bambino (nato dopo il 30.04.2014)
Baby (born after 30.04.2014)
210,00 €
255,00 €
Bambino accompagnato* (nato dopo il 30.04.2014)
Accompanied child* (born after 30.04.2014)
Gratuito / Free
Gratuito / Free
* Free accompanied child: up to 8 years (born after 30.04.2014), if accompanied by a family member paying Adult rate, in the proportion 1: 1, at the time of registration.
NB: the spending threshold is canceled at the end of each single season.
How to get Starpass
Getting MyPass Ski is simple! Follow these simple steps:
SIGN UP
here on the website at the following LINK or by downloading the MyPass Ski App. Enter your data, it will only take you 5 minutes!
BUY
the MyPass Ski card for the value of € 15 and choose whether to receive it at home or collect it at the ski area;
ACTIVATE
your card via the MyPass Ski APP, by entering the code found on the back of the Keycard. We remind you that the subscription lasts one year, ie 12 months from the date of activation!
USE
your card like a normal ski pass, access the lifts and enjoy your day of skiing!
The advantages of Starpass
Your StarPass by MyPass Ski card is compatible in all ski areas affiliated with MyPass Ski, where you can go skiing by directly accessing the lifts, without queues, and with the Pay Per Use system!
NB: the expenses incurred in the areas outside the Campiglio Ski Area are not counted towards reaching the StarPass thresholds.
With Starpass you have an 8% discount compared to the official rates of the ski areas on ALL ski days
You will no longer have to bear the cost of the pre-purchase, the savings are guaranteed!
No more queues at the cash desks: receive the card directly at your home!
Do you need more information about MyPass Ski?
If you have any other questions about the MyPass Ski system, you can check our help center with the most frequently asked questions, otherwise contact us!