Invite a friend
Open MyPass Ski App, from the top left menu and invite your friends: for each friend who signs up with your promo code, you will receive a 3-month service extension bonus.
Visit the "Refer a friend" section to share your promotional code:
Choose the channel you prefer (SMS, Whatsapp, email etc.);
Select the person you want to send the message to;
Press "send" and share your promotional code.
Once the invitation is received, your friend must click on the link, and follow the process to register; or, you can manually type the promo code in the app, in the appropriate section at the end of the shopping cart.
When do I get the Bonus?
You will receive the Bonus when the invited friend joins the Mypass Ski world by completing the purchase of the ski card.
How do I check how many of my friends have signed up?
You can check the registration of invited friends and the bonuses paid at any time in the "Invite a friend" section. Invited friends can be in the following conditions:
Guests: has not completed the purchase;
Active: has concluded the purchase of the ski card;
How many bonuses can i receive?
You can get as many extension bonuses as you want! You can continue to invite your friends who will always receive a 3 euro discount on the purchase of the card.
Your bonuses will always be displayed in the invite a friend section with the number of months of extension you have obtained.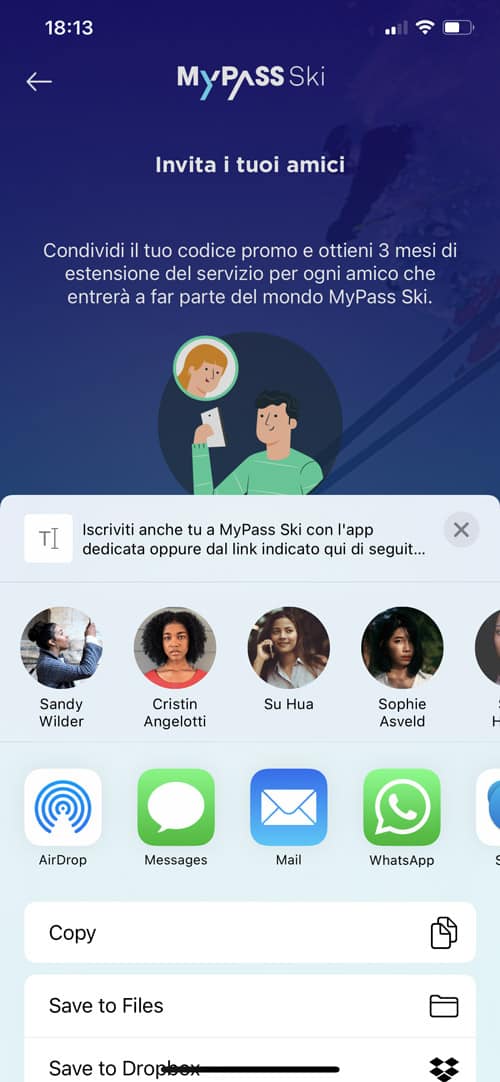 Related
What is the Bonus I will receive?
In the app you will see a message when your friends complete the purchase, you will receive a notification confirming the extension of the service!
What is the Bonus that my friend will receive?
Your friends will have to enter the promo code at the end of the payment process, and will immediately get € 3 discount for each skier they associate with the MyPass Ski account!