HOW TO REQUEST THE MYPASS SKI CARD
WHY CHOOSE MYPASS SKI IN FOLGARIA

Rate management from half day to multi-day
You will be charged the best rate of the ski area in relation to the time actually skied

Pay only for the time actually skied
Don't decide first which Skipass to buy. Go directly to the slopes and pay only for what you actually skied

Skip the line at the ticket office
Don't waste a single minute on the snow! Activate the card and go directly to the turnstiles

We provide assistance to our customers throughout the ski season
Folgaria ski area
Folgaria Skipass Rates
Ski pass by the hour
4 hours
There is an hourly rate of 4 hours. In applying the tariffs, the districts have provided for a tolerance period in the transition from one hour to another equal to 1 minute.
Once the minute of tolerance has passed, the system will automatically apply the next rate.
Consecutive days ski pass
From 1 to 14 days (will apply if you ski for 2 consecutive days or more).
Reductions
Discounts are available for Child and Junior skiers (it is mandatory to upload the photo from the App or website to get the dedicated rates).
Children up to 8 years (born after 30.04.2014)
The child (born after 04.30.2014) accompanied by a family member receives a free ski pass (from 1 to 14 consecutive days) of the same type and duration as the one purchased at the same time by the family member paying the daily or multi-day adult rate (ratio 1:1 = 1 adult and 1 child). Promotion NOT combinable with the 4-hour ski pass.
Categories with reductions
Child*:
born after 30.04.2014
Junior*:
born after 30.04.2006
*Only upon presentation of a valid identification document (e.g. C.I., passport).
Folgaria slopes
The Folgaria area is characterized by its wide, well-groomed slopes and suitable for technical skiing. For this reason it is often taken as a reference destination for training by different nations, in preparation for the world cup, and has been awarded various international awards.
However, the complexity of its slopes goes hand in hand with the beauty of the landscapes that accompany it: with more than 70 km of slopes starting from Costa d'Agra (1850 m asl) up to Passo Coe (1625 m asl).
One of its most famous slopes, the Martinella, is a black slope suitable exclusively for technical and highly experienced skiing.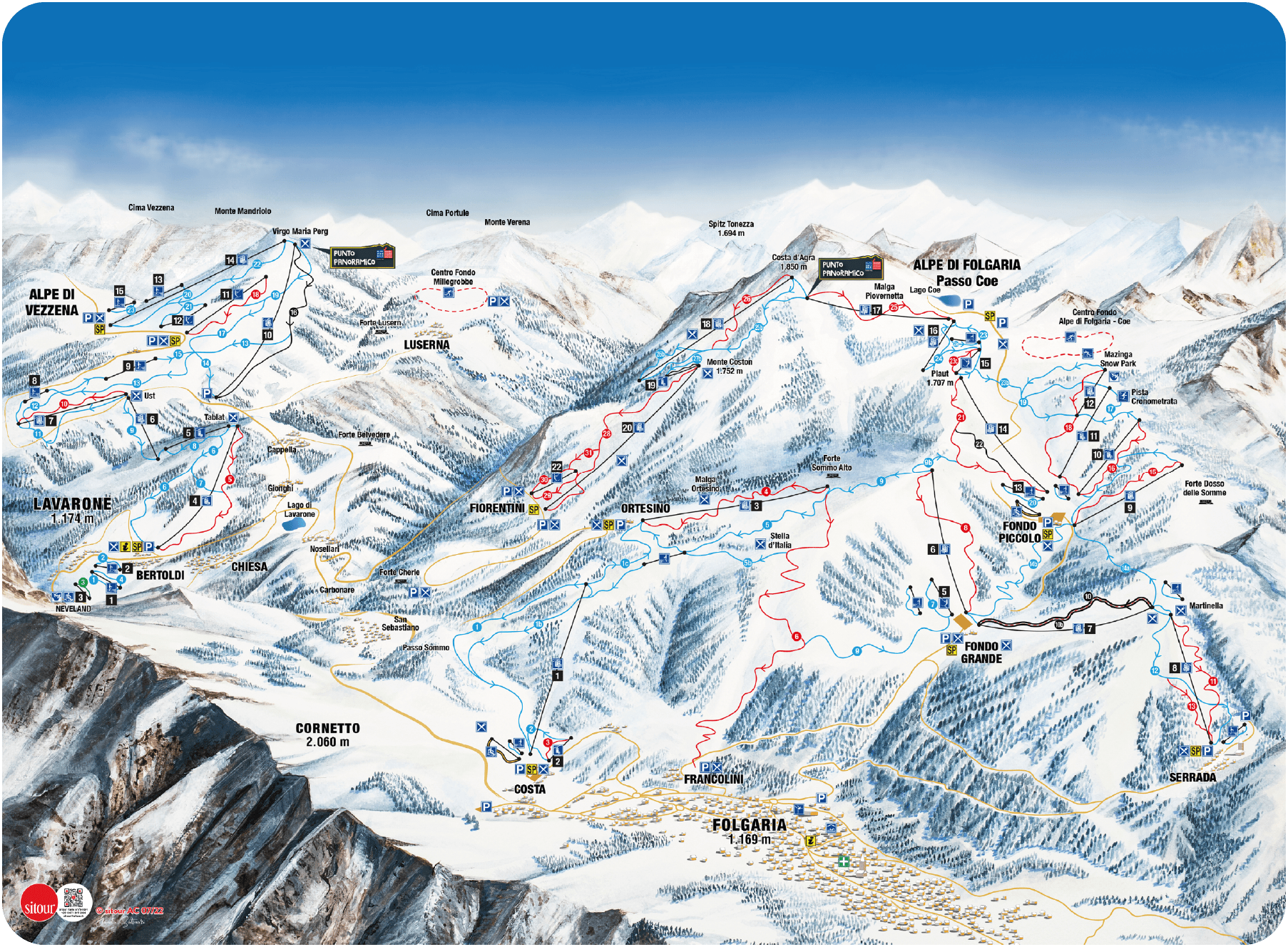 From 1 January 2022 the RCA policy is mandatory on the slopes. Activate Helvetia's daily* or seasonal policy on the MyPass SKI App and ski without worries in complete safety.
*the daily policy is activated only when you pass the turnstile. €2.50
per day for the first two days, €2 from the third consecutive day skied.